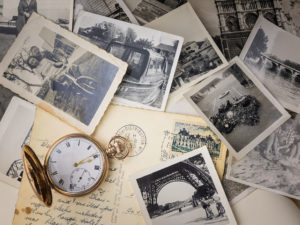 Past Life Exploration is the process of going back into a previous lifetime through your subconscious mind while you are in a relaxed self-hypnotic state. It unlocks valuable information stored in the subconscious mind and provides a person with greater understanding.
The National Guild of Hypnotists' Ethics, Standards and Terminology, stipulates, "A common Self-Help Technique is Regression. As used by a hypnotist, A Regression is a review of significant or remarkable events by the client with the Hypnotist serving as the Guide."
(A past life exploration is also referred to as Past Life Regression or Past Life Recall.)
Why do a Past Life Regression?
For those that belief in reincarnation, past lives are building blocks of who we are today. They are the archives of our soul. Past life explorations are often a way to understand and to heal. By exploring and understanding the past life experiences, you can have an awareness of how it has affected your current life. That experience often provides insight into how to improve your current situation.
Past life regressions can be viewed as a chance to understand or explore:
Possible causes of relationship difficulties, worries, chronic health problems, phobias, fears, etc.
A current issue in your life
Your soul's purpose in this lifetime
Current interests, abilities, skills
Dreams
What to expect in a Past Life Exploration Session
A Past Life session is much like a hypnosis session. A hypnotist will induce a light trance state usually to access the subconscious mind. You will feel deeply relaxed and peaceful. You are then taken on a journey back to the past, using hypnosis and guided imagery. The hypnotist will ask you questions and guide you through the process, asking you to describe what you are seeing or sensing. As in all hypnosis, you are always in control and will be aware of where you are and what you are doing. You can stop or control the process at any point.
The most common experience that people report is that a Past Life Exploration is like watching a movie of your life. Images play out in your mind and you are able to detach and simply observe.
Past Life Explorations can be conducted in a private session or in small groups.
Past Life Exploration Sessions
$200 approximately 2 hours

Group sessions
Varies according to location and group size. Contact Kathie for more information.
Kathie's Past Life Exploration Interview
Marie Jackson's Time Share Radio Feb. 12, 2015.
DO NOT LISTEN TO THIS WHILE DRIVING, WORKING WITH MACHINERY, OR ENGAGED IN ANY ACTIVITY THAT REQUIRES YOUR FULL ATTENTION.
Sample Guided Past Life Exploration
DO NOT LISTEN TO THIS WHILE DRIVING, WORKING WITH MACHINERY, OR ENGAGED IN ANY ACTIVITY THAT REQUIRES YOUR FULL ATTENTION.
***Gift certificates available***
Receive a discount when you purchase three or more sessions.
Hours are by appointment.
Contact Kathie for further information.
Fees are payable by cash, check, PayPal or credit card.
Ask about Senior (65+ years of age) discounts.